Glass Balustrades

Frameless Glass Balustrade Glass Panels & Hardware Supply in Sydney
Order Procedures:
1. Design your balustrade
Generally, the gap between glass panels has to be less than 100mm by the regulation. And most installers choose between 20-50mm gap. If the balustrade isn't on the ground floor, top rail is required.
2. Select glass panel size and quantity
Glass balustrade balcony deck panels made from 12mm clear toughened tempered & heat soaked glass.
Height is standard 970mm, width from 200 to 2000mm, and the increment is every 50mm.
*Factory Online Glass balustrade panels are toughened and heat soaked grade A safety glass which is tested and certified to comply with AS/NZS 2208:1996 Safety Glazing Materials In Buildings.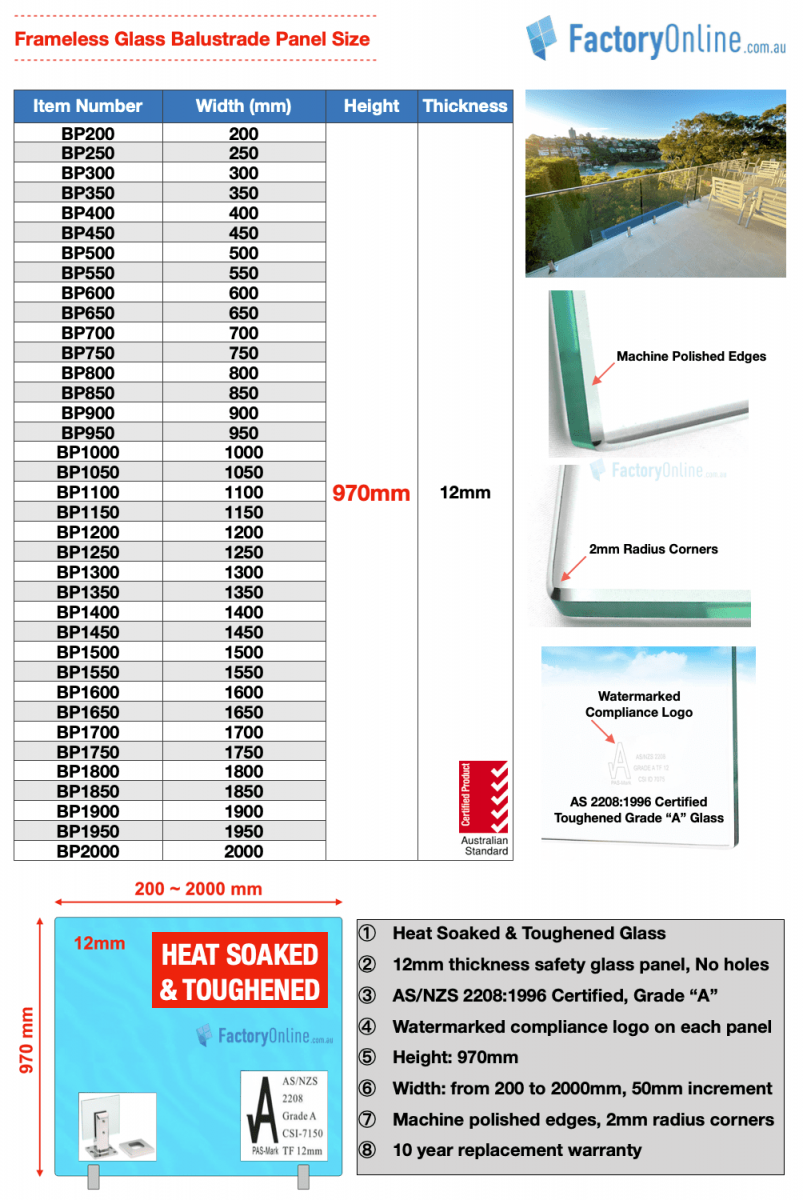 3. Select spigots
Deck mount (screw-in) or core drilled hole heavy duty glass spigots available in Mirror, Satin & Matt Black finish
* Engineered in Australia with full NATA accreditation to meet Australian Standards AS1170.1. The formal certificate is available for review.
* Made from solid 2205 duplex stainless steel (Grade sequence 2205 > 316L > 316 > 304 stainless steel). 2205 Duplex stainless steel is stronger and better corrosion resistance than 316L stainless steel.
* Calculate distance from spigot centre to edge of the glass is : (Panel Width) Divide by 5, For example: 1000mm / 5 = 200mm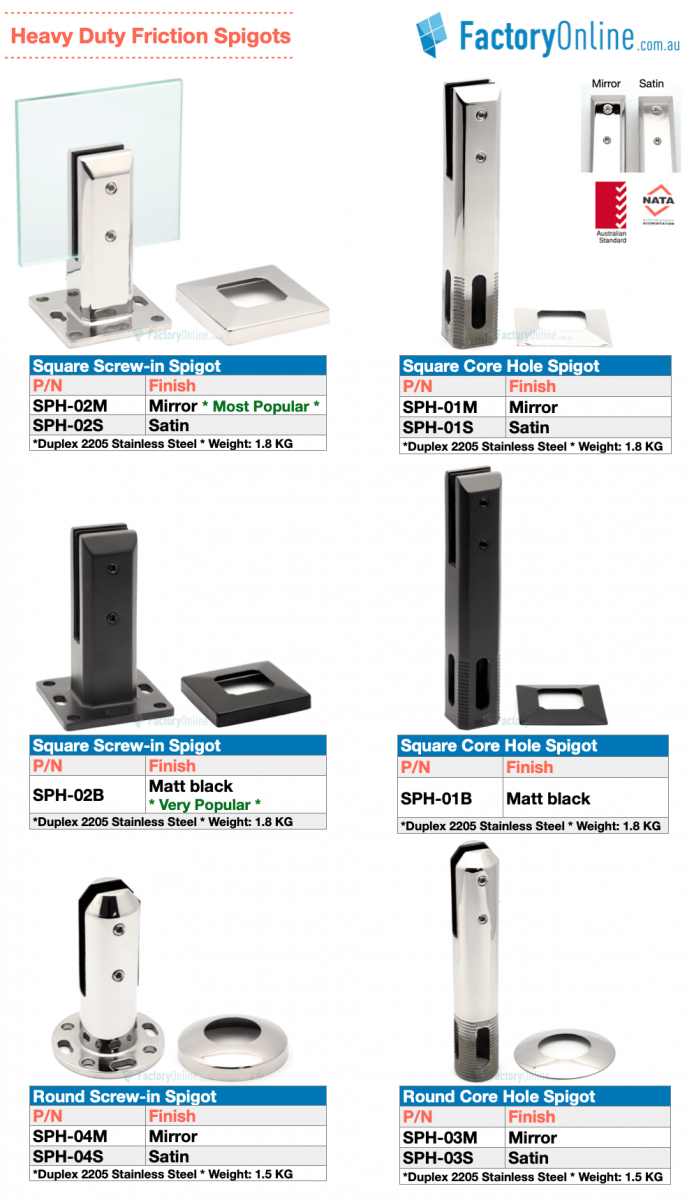 4. Select top rail
If the balustrade isn't on the ground floor, top rail is required. Square & Round slotted top rail 25 x 21mm x 5.8 meters standard length / 316L stainless steel available.
90-degree corner joiner, straight joiner, adjustable joiner, end cap & wall mount plate available.
Top rail fixed to glass by silicone, no rubber strips are required.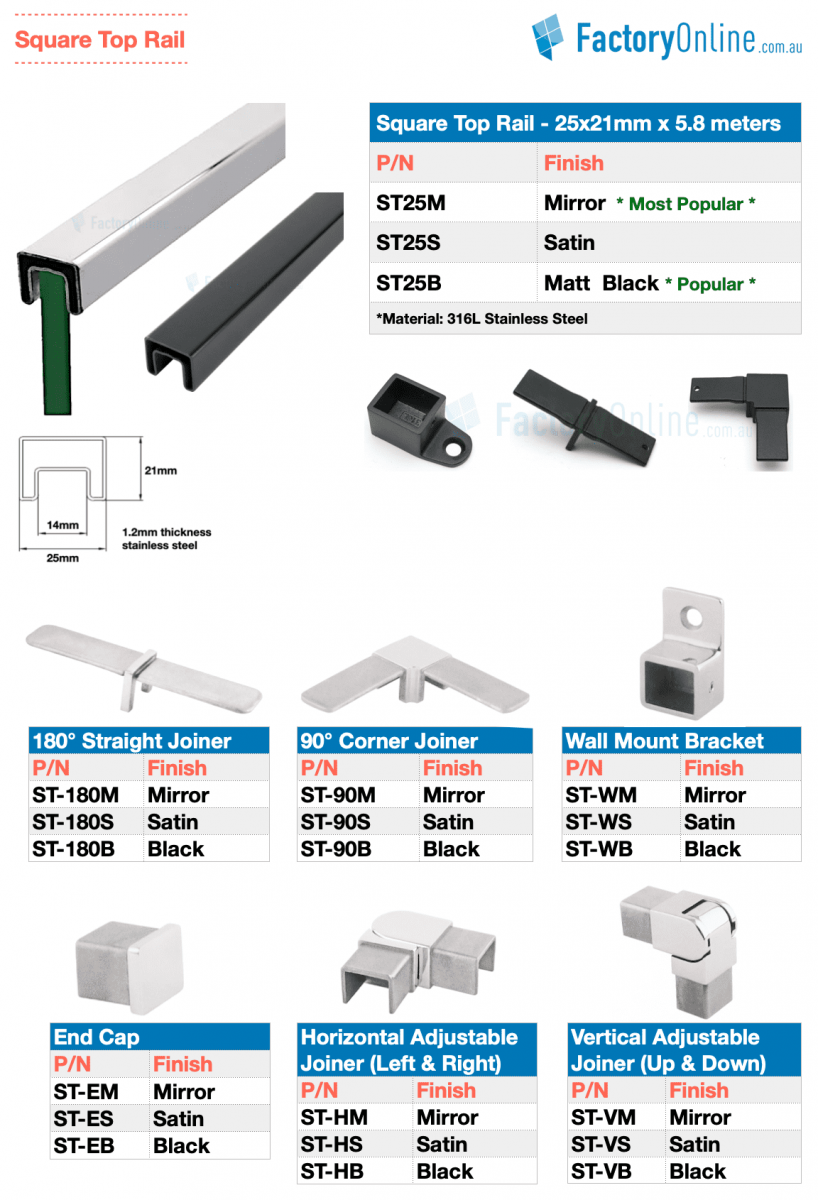 5. Select glass clamps
Add some glass clamps if need additional support and strengthening the glass balustrade.
If glass balustrades in high wind or a coastal area, add clamp is a good option.
6. Get a quote
Customer Service:
M: 0491 103 037
Welcome to showroom: 221 Parramatta Road, Auburn, NSW 2144 (Mon - Fri: 8:00am - 4:30pm)
(Opposite of Harvey Norman Auburn)
________________________________________
Project Photos: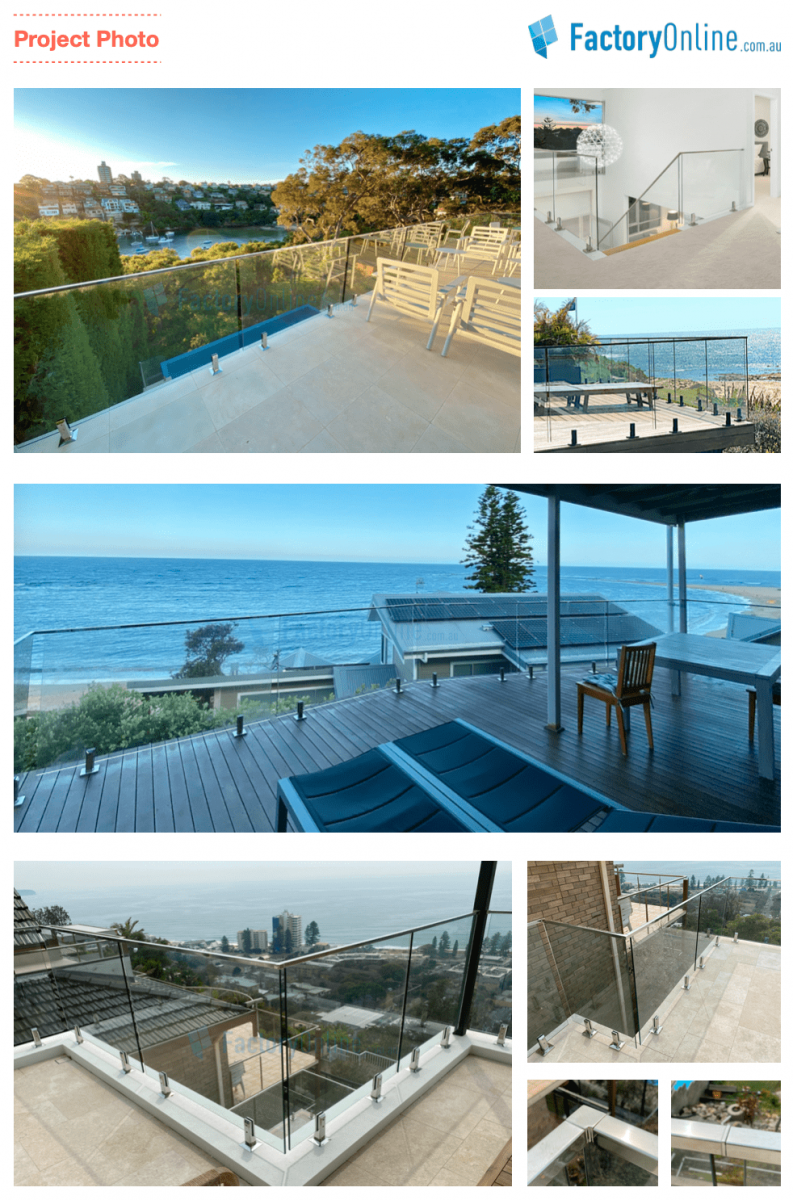 Specification:
Model Name

Frameless Glass Balustrading

Glass Thickness (mm)

12mm

Material

Toughened safety glass

Colour

Clear

Product Dimensions (mm)

Height: 970mm

Width: 200-2000mm (increment: 50mm)

Glass Finish

Flat polished edges, 2mm radius corners x4

Australian Standard

AS/NZS2208:1996

Certificate

Yes

Warranty

10 Years
Features:
* Frameless glass balustrade is the hottest fencing solution in recent years. Renovation, DIY. It just adds value to your lovely house.
* Provides unobstructed views. It does not only look great but also provides maximum visibility when supervising children.
* Fully accredited to Australian Standards AS/NZS 2208 and with certificate. Every glass panel has an etched Compliance Logo for your peace of mind.
* 2mm radius on each corner and polished side edges for additional safety.
Glass Certificate: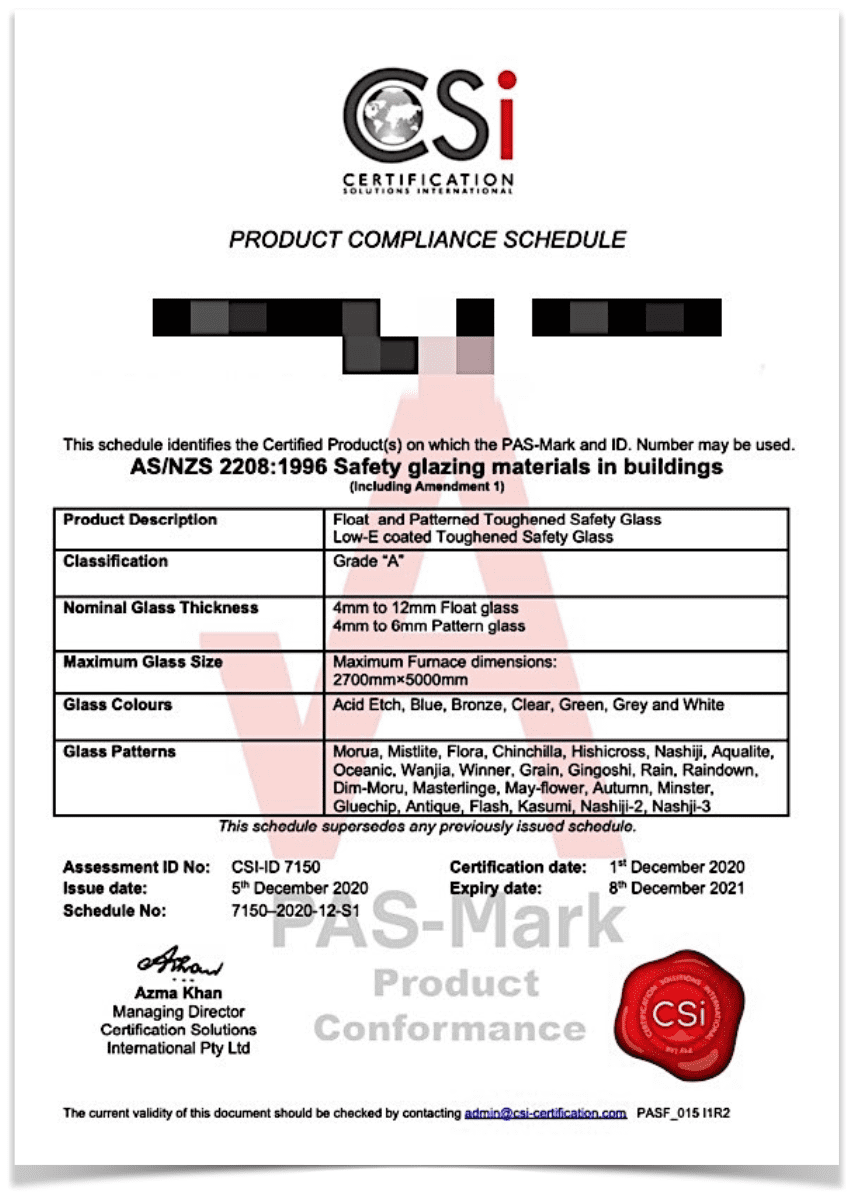 ---
This category is empty! Please try another category or use our search function to find what you are looking for. If you require further assistance please contact us.